| | | |
| --- | --- | --- |
| | News & Info | |
Quick Tips
When doing a heavy grind such as Lippage Removal, as you move from one grit to the next, rinse the floor thoroughly and let it dry. This will ensure that you've removed any grit or loose diamonds from your previous grit, diminishing errant scratches.
We may not be the largest stone care product company. But we might just be the most helpful! You'll find that Stone Care Direct can provide you with valuable information along with carefully selected stone care products. Come to Stone Care Direct to enjoy a friendly relationship with people who can assist you with all your stone care needs.

Here's what we provide...

Cimex machines at the best price in the USA


Kleenrite high pressure recovery system portables


StoneBlazer line of stone care polishes, sealers, etc.


A full range of high quality diamond abrasives


A message board where you can communicate with industry professionals


Information to help you become more efficient


Stone care classes throughout the year


Technical assistance and support
Stone Care Direct has a full range of quality products for your natural stone care business...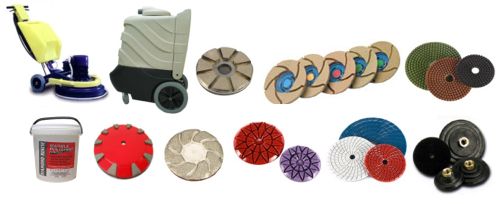 | | | |
| --- | --- | --- |
| | HOT ITEM | |
Item Name: 8" Fireball
Item Number: FB8-sb
Price: $215
Sale $175 each
Click for details